A. Ellsworth (Al) Whittle
1951
Al Whittle in full uniform at the Capitol Theatre.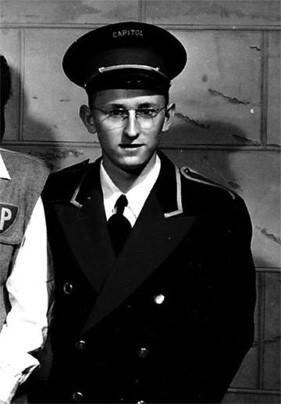 1953
Al in his tailored Paramount uniform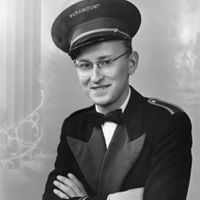 1975
Al Whittle with a student projectionist at the Acadia Cinema around 1975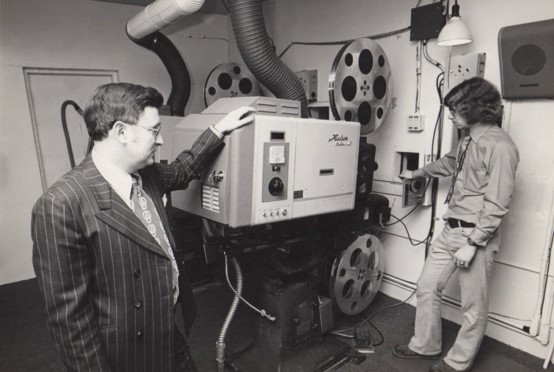 1976
Al Whittle in his office at the Acadia Cinema in the 70's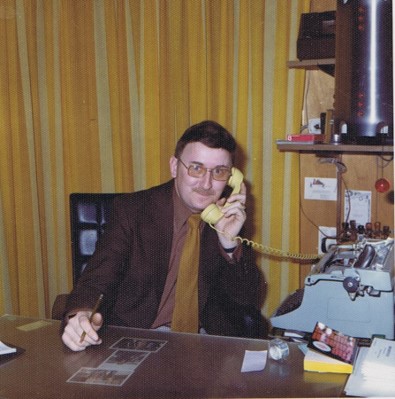 1996
Al Whittle in front of the Acadia Cinemas! Looks like Scream was playing that day!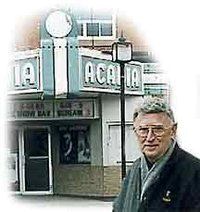 2012
Al Whittle was still taking tickets for Fundy Film Society screenings on Sundays well into his 80's!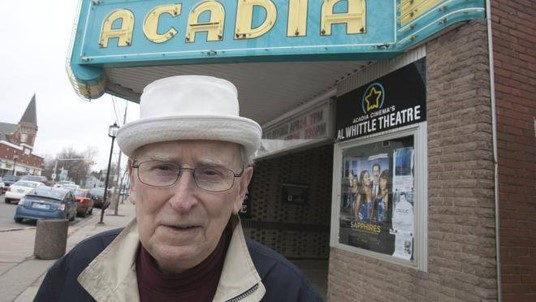 2013
At the Whittle Big Man event in 2013, Al Whittle was honored with celebratory fundraising event. Mary Costello and Olivia Frampton dressed as theatre ushers to escort Al to the stage. Act I was a series of live acts from our talented local community and Act II was a screening of Gentlemen Prefer Blondes with Marilyn Monroe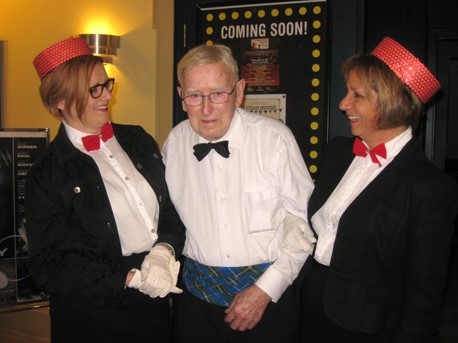 2014
On November 7, 2014 the Acadia Cinema Cooperative hosted the 10 year anniversary of the relighting of the neon marquee! Al Whittle attended as a guest of honor and he chose the film that was screened that night…the classic Hitchcock film Rebecca, from 1940.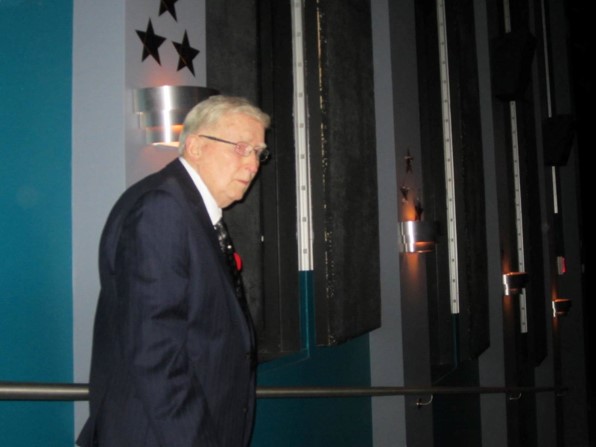 2014
Al Whittle, under a model of the Acadia Cinema's marquee, greets Acadia Alumni at a Gala Banquet at the World Trade Centre in Halifax.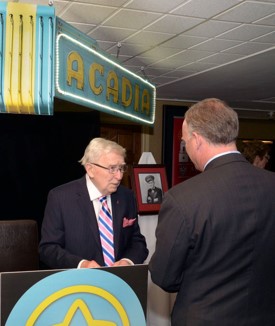 Al Whittle
The Board of Directors of the Al Whittle Theatre / Acadia Cinema Co-op regrets to announce that our Honorary Director Al Whittle passed away on January 23, 2021 at age 91. We extend our condolences to his family and all those close to him. Al was the face of our theatre for decades and played a crucial role in enabling its transfer to our member-owned cooperative. There is a link to his obituary below.
We urge you to watch this short film below, in which Al recalls his career as the theatre operator. This was filmed in 2013.
WHO'S AL?
A native of Port Elgin, New Brunswick, A. Ellsworth (Al) Whittle began working in movie theatres at the age of 19. In 1953 Al was hired in a permanent position at the Acadia Cinema, making him the youngest theatre manager in Canada. For the next 47 years, Al ripped tickets, made popcorn, chose the movies, and worked as a projectionist. In short, he was the heart of the cinema. He retired in 2000. Al is a founding member of the Fundy Film Society (now Fundy Cinema) and an honorary director of the Acadia Cinema Cooperative. His popcorn recipe remains the best (and most secret) in town.
Al Whittle: My Life in Movies 1953-2000
A short film that premiered at the Whittle Big Man Gala, April 26, 2013.
© Noemi Volovics and Fundy Film.