Studio Z Set Up
The Studio Z space is a great place for a private screening!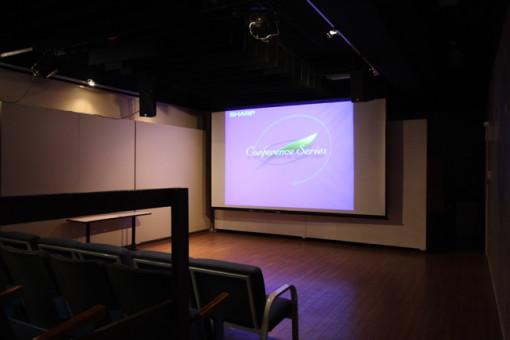 Seating Area
The studio has 27 built in cushioned theatre seats with sofas and stacking chairs that can increase the seating to about 40 depending on the layout.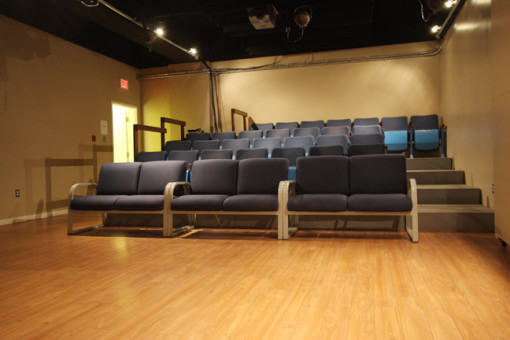 Build your own dressing room
Our adjustable walls make it easy to create a couple of private dressing areas when the space is being used as the dressing room/green room for live performances at the Whittle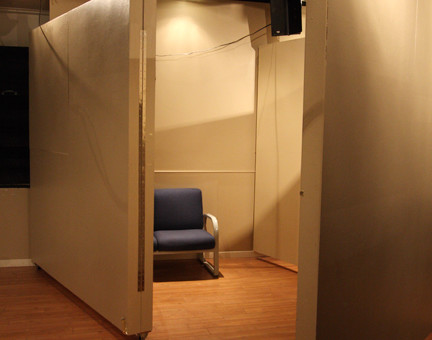 Retractable Screen and adjustable walls
The 12 foot (diagonal) screen can be retracted or lowered using the remote control. The adjustable walls can be extended to create a neutral background behind the screen or a backstage area for performance purposes.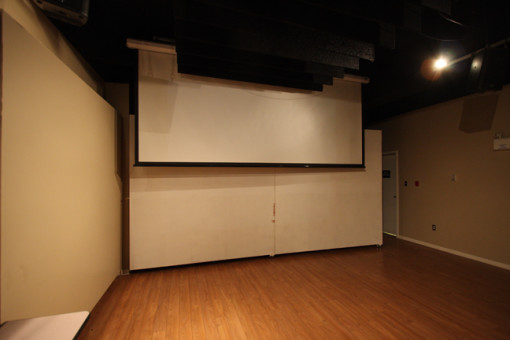 Studio-Z
Studio-Z is a 22′ x 40′ multi-purpose room above the Al Whittle Theatre lobby. The venue features a bank of 27 cushioned theatre seats, a digital projector and screen, a PA system, and a smooth wooden floor. Studio Z is ideal for birthday parties, intimate concerts, small theatre productions, meetings, classes, rehearsals, and more.
Studio availability based on bookings in Al Whittle Theatre.
Long term advance bookings generally not available
Studio-Z – Rates
Studio rents for $25/hour + hst.
Basic set up fee & tech support to use Studio Z equipment $25+hst (Set Up Fee negotiable and may be waived based on actual room and equipment requirements)
Limits set on billable hours as follows:
2-4 hours for $50+hst,
4-6 hours for $75+hst
6-8 hours for $100+hst
With sufficient notice, technician can be supplied to assist at the event for $25/hour +hst on top of rental fee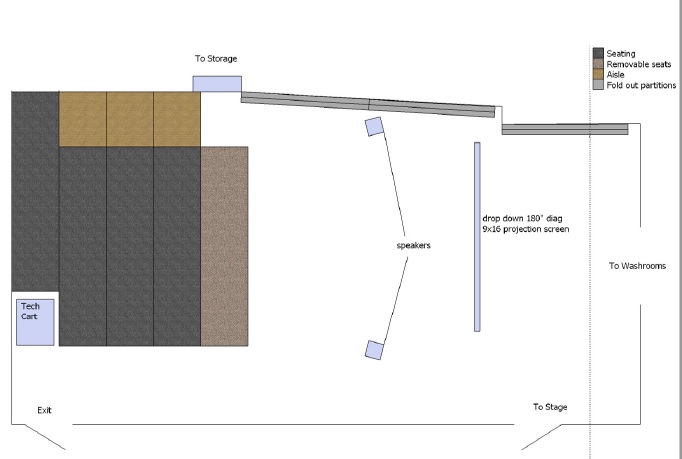 Equipment List
EPSON projector (3400 lumens) with HDMI and VGA ports
Remote controlled retractable projection screen (9:16 - 12' diagonal)
Sony DVD/Bluray player (Model BDP S590)
Computer connection (HDMI or VGA)
Wireless internet
5 6" 500w Fresnels
Cables
6 x 1.2kW DMX dimmer pack -Behringer EUROLIGHT LD 6230
24 channel DMX lighting controller Behringer EUROLIGHT LC2412
Dim-able house lights
2 QSC K8 speakers
5 input / 2 bus mixer - Behringer XENYX 502
Handheld wireless microphone - Audio Technica
Bar Fridge
Stackable chairs (30) and folding tables (4)
27built in soft seat seating bank
Moveable partitions
Two bathrooms with tile showers
Lounge furniture for Green Room use
Bulletin board
Bookings
To request a booking for Studio-Z, please contact the theatre manager: manager@alwhittletheatre.ca
Please note: Bookings will be considered tentative until a signed rental contract is received by the theatre manager. To guarantee inclusion on the Al Whittle Theatre website event listings, Facebook page, and other facility promotions, we recommend confirming your booking early. Events will not appear on the Whittle's website and social media unless the event has been posted on Valley Events